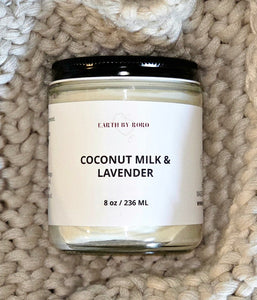 EARTHBYRORO
Coconut Milk & Lavender
Regular price
$24.99
$0.00
Unit price
per
A beautiful blend of lavender with french vanilla infused with rich coconut milk and hints of musk. This formula is infused with lavender essential oil. Want to enhance your night time routine? This is the way to go.
Our whipped body butter formula promotes skin elasticity. The finest ingredients combined to protect and nourish the skin while providing vitamins and antioxidant to help slow down the process of aging.
Mango Butter: Helps naturally boost collagen production, heal minor abrasions, and reduces inflammation on the skin without clogging your pores.
Cocoa Butter: Improve blood flow to the skin and slow skin aging by protecting against damage from the sun's harmful UV rays. Helps smooth scars, wrinkles, and other marks on the skin.
Avocado Oil: Good component to use if you have skin conditions such as eczema or psoriasis.
calm itchy skin
replenish dry skin
protect against skin damage
hydrate and moisturize skin
Ingredients; Unrefined Shea Butter, Mango Butter, Cocoa Butter, Avocado Oil, Olive Oil, Coconut oil, Jojoba Oil, Vitamin E, phthalate-/paraben-free fragrance, Lavender Essential Oil.
Mood: Relaxed & Destress
---